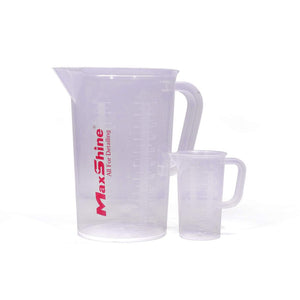 Maxshine Measuring Cups Set 100ml/1000ml
Maxshine Measuring Cups Set Transparent-100ml/1000ml
Features:
Easy-to-recognize Readings

Marks on the clear wall are highly visible.

With raised triangle spout, you could pour liquids easily.

Measurements on both sides allow you to read no matter when you hold the measuring beaker with left or right hands.

Angled handle makes the measure cup comfortable and labor-saving to grip when transferring ingredients.
Product description:
Easy to read accurate measurement of various chemical liquids
Features a curved spout for precise pouring and easy-grip handles for comfort.
Volume:100ML/1000ML